What We Do in the Shadows - Stagione 1 (2019)[3/10].mkv HDTV AC3 H264 1080p ITA
Vota per questo articolo
SERIE TV HD
What We Do in the Shadows - Stagione 1 (2019).mkv HDTV AC3 H264 1080p ITA - SpyRo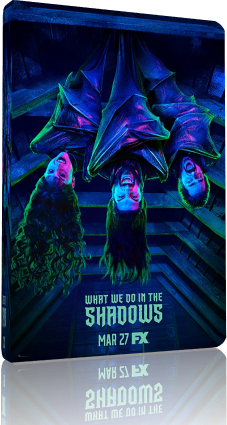 Scheda iNF:
GENERE: Commedia
ANNO: 2019
PAESE: USA
DURATA: 24 min
Stagioni: 1
Episodi: 10
Ideatore: Jemaine Clement
Attori:Kayvan Novak, Matt Berry, Natasia Demetreiou, Harvey Guillen, Mark Proksch
Produzione: 343 Incorporated, Defender Films, Two Canoes Pictures
Stato: In Lavorazione

What We Do in the Shadows è una horror comedy basata sull'omonimo film del 2014 scritto da Jemaine Clement (Flight of the Conchords) e Taika Waititi (Thor: Ragnarok). La serie, creata dallo stesso Clement per FX, è costruita come un mockumentary incentrato su Nadja (Natasia Demetriou), Laszlo (Matt Berry, Devious Maids), Nandor (Kayvan Novak, Syriana) e Colin (Mark Proksch, Better Call Saul), un gruppo di vampiri che condivide lo stesso appartamento a Staten Island da migliaia di anni, litigando costantemente per futili questioni casalinghe come i piatti sporchi lasciati nel lavandino e il "cibo scaduto" - che, essendo vampiri, è costituito in realtà da esseri umani succhiati a metà. Mentre i primi tre vivono di notte, facendosi aiutare dall'aspirante nosferatu Guillermo (Harvey Guillen, The Magicians) a trovare ogni giorno un pasto umano da dissanguare, Colin appartiene a una sottospecie di vampiri succhia-energia: vive quindi come un normale essere umano, andando ogni giorno al lavoro, ma si nutre dell'energia dei suoi colleghi, semplicemente annoiandoli a morte o facendoli innervosire. Dopo tanti anni intrappolati nella stessa monotona routine, i quattro vengono risvegliati dal proprio torpore all'arrivo del loro antico Maestro, il quale gli ordina di conquistare Staten Island prima del suo risveglio dal sonnellino pomeridiano. Riusciranno a portare a termine l'impossibile compito, senza scornarsi per l'ennesimo problema di convivenza?
Curiosità:
What We Do in the Shadows si basa sul film omonimo del 2014 scritto e diretto da Jemaine Clement e Taika Waititi, in Italia meglio conosciuto con il titolo Vita da vampiro. La comedy è ideata dallo stesso Clement, mentre Waititi lo affianca in qualità di produttore esecutivo. Quest'ultimo dà il suo contributo anche in qualità di regista.
Il brano che accompagna musicalmente i crediti di apertura della serie è You're Dead, cantato da Norma Tanega.

InfSuFiles:
Show/hide text

In caso di links defunti, mandate PM e ricontrollate la cartella, ne avrete di funzionanti!
Click'N'Load V2, aprire nel browser (NON INCOLLARLO SU JD), premere il bottone o scaricare il DLC.

(Funzionano solo con JDownloader che deve essere prima avviato).

Attenzione! Non sei abilitato a vedere questo testo.
Registrati o Fai Login
Utenti che hanno ringraziato: 2
ATTENZIONE
Stai per prelevare What We Do in the Shadows - Stagione 1 (2019)[3/10].mkv HDTV AC3 H264 1080p ITA

Materiale solo a scopo dimostrativo e per testare la sua funzionalità quindi una volta prelevato dovete cancellare i file entro 24 ore dal vostro PC Nessuno dei files indicati su questo sito è ospitato o trasmesso da questo server. I links sono forniti dagli utenti del sito, TRLegend.org non può essere ritenuto in alcun modo responsabile per qualsiasi pubblicazione o altra azione commessa dagli utenti.Se è stato di vostro gradimento supportate il lavoro comprando l'originale.