Pretty Little Liars: The Perfectionists - Stagione 1 (2019)[6/10].mkv HDTV AC3 x264 720p ITA
Vota per questo articolo
SERIE TV HD
Pretty Little Liars: The Perfectionists - Stagione 1 (2019).mkv HDTV AC3 x264 720p ITA - SpyRo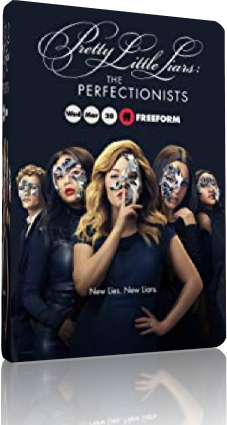 Scheda iNF:
GENERE: Drammatico Adolescenziale, Thriller.
ANNO: 2019
PAESE: USA
DURATA: 43 minuti
Stagioni: 1
Episodi: 10
Ideatore: Marlene King.
Attori: Hayley Erin, Sasha Pieterse, Janel Parrish...
Casa di produzione: Warner Horizon Television
Long Lake Productions
Alloy Entertainment
Stato: In corso

Pretty Little Liars: The Perfectionists è una serie televisiva statunitense, ideata da Marlene King, trasmessa su Freeform dal 20 marzo 2019 al 22 maggio 2019. La serie si basa sul libro The Perfectionists di Sara Shepard ed è il sequel di Pretty Little Liars, andata in onda dal 2010 al 2017.
La sigla della serie rimane la stessa della serie madre, Secret dei The Pierces, ma in versione remix realizzata dai Denmark + Winter.
Il 27 settembre 2019 la serie è stata cancellata dopo la prima stagione.
Nella cittadina di Beacon Heights tutto sembra tranquillo, a partire dagli abitanti, che aspirano sempre a raggiungere la perfezione. Per farlo, però, devono tenere nascosti segreti, alcuni anche oscuri. Gli alunni della Beacon Heights University vivono nell'ansia di adeguarsi agli altissimi canoni imposti dalla temibile Claire Hotchkiss. Claire controlla tutto il paese, dall'istruzione all'economia. Sotto il tetto della casa di Claire, vive suo figlio Nolan, responsabile di innumerevoli persecuzioni umilianti nei confronti dei frequentatori della città. A causa sua, le vittime dei suoi scherzi si divertono a fantasticarne l'omicidio. Peccato che qualcuno decida di uccidere Nolan negli stessi modi in cui avevano tanto fantasticato le sue vittime

InfSuFiles:
Show/hide text

In caso di links defunti, mandate PM e ricontrollate la cartella, ne avrete di funzionanti!
Click'N'Load V2, aprire nel browser (NON INCOLLARLO SU JD), premere il bottone o scaricare il DLC.

(Funzionano solo con JDownloader che deve essere prima avviato).

Attenzione! Non sei abilitato a vedere questo testo.
Registrati o Fai Login
Utenti che hanno ringraziato: 0
ATTENZIONE
Stai per prelevare Pretty Little Liars: The Perfectionists - Stagione 1 (2019)[6/10].mkv HDTV AC3 x264 720p ITA

Materiale solo a scopo dimostrativo e per testare la sua funzionalità quindi una volta prelevato dovete cancellare i file entro 24 ore dal vostro PC Nessuno dei files indicati su questo sito è ospitato o trasmesso da questo server. I links sono forniti dagli utenti del sito, TRLegend.org non può essere ritenuto in alcun modo responsabile per qualsiasi pubblicazione o altra azione commessa dagli utenti.Se è stato di vostro gradimento supportate il lavoro comprando l'originale.