Nero BackItUp 2019 v20.1.1.3 Multi - ITA
Vota per questo articolo
UTILITY

Nero BackItUp 2019 v20.1.1.3
Multilingual - ITA

Backup del PC con un solo clic. Mantiene i vostri file al sicuro.
È il backup per PC sicuro di avete bisogno, per gli insostituibili file che amate. Iniziate con Nero BackItUp a proteggere i file e le memorie sul vostro PC o laptop ed essi verranno automaticamente salvati in tre diverse destinazioni, ad esempio dischi rigidi USB . È sufficiente fare clic su un pulsante per configurare il backup.
Automatizzate completamente i vostri backup
Rilassatevi, i vostri file sono al sicuro: potete eseguire backup giornalieri, settimanali, mensili con qualsiasi frequenza desiderata! Basta impostare una data e un'ora. È anche possibile scegliere un backup continuo: Nero BackItUp proteggerà costantemente i nuovi dati o i file appena aggiornati.
Destinazioni multiple
Potete eseguire un backup locale su un altro disco rigido oppure su unità USB esterna. In alternativa archiviate i vostri file sulla NAS (network attached storage): a voi la scelta! In ogni caso, anche la versione gratuita del nostro prodotto sarà in grado di offrirvi una doppia protezione per i vostri file.
Versioni precedenti
A differenza di altri servizi che salvano soltanto l'ultima versione dei file, Nero BackItUp salva anche le versioni precedenti dei file che si desidera proteggere. Se si apportano modifiche a un file, tutte le versioni precedenti del file vengono mantenute nell'unità locale. In questo modo, i file eliminati o danneggiati saranno sempre ripristinabili!
Crittografia e compressione
State certi che i vostri file sono archiviati in modo sicuro con la crittografia ad accelerazione hardware AES a 256 bit. E con il nostro abile algoritmo di compressione, quando i file vengono memorizzati su disco USB, potrete anche risparmiare spazio su disco.
Requisiti
:
- Microsoft Windows Vista®, Windows® 7 o Windows® 8.1 & 10
- Processore AMD o Intel® 2 GHz
- 1 GB di RAM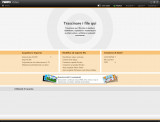 Size: 136 MB
Lingua: Italianoo
Download LinksEasybytez - Rapidgator - Uploaded
Warning! You are not allowed to view this text.
Warning! You are not allowed to view this text.
Password:
programmi
ATTENZIONE
Stai per prelevare Nero BackItUp 2019 v20.1.1.3 Multi - ITA

Materiale solo a scopo dimostrativo e per testare la sua funzionalità quindi una volta prelevato dovete cancellare i file entro 24 ore dal vostro PC Nessuno dei files indicati su questo sito è ospitato o trasmesso da questo server. I links sono forniti dagli utenti del sito, TRLegend.org non può essere ritenuto in alcun modo responsabile per qualsiasi pubblicazione o altra azione commessa dagli utenti.Se è stato di vostro gradimento supportate il lavoro comprando l'originale.