Nero Platinum Suite 2019 v20.0.07200 Multi - ITA
Vota per questo articolo
MASTERIZZAZIONE

Nero Platinum Suite 2019 v20.0.07200
Multilingual - ITA | Extra: Content Pack

Il re multimediale nella giungla del software.
- Il re dei multimedia nella giungla del software
- Con Nero Platinum 2019 avrete a disposizione 6 potenti programmi in un'unica suite. Dall'editing video alla gestione delle foto, alla creazione, conversione e masterizzazione di DVD, tutto è lì per voi.
Importare, Creare & Modificare
Nero Video 2019: Il programma di editing video offre la massima creatività con la massima semplicità di gestione e i migliori risultati per i vostri progetti cinematografici. Crea filmati e presentazioni perfetti con 1-Click Video Story. Con il nuovo Nero LifeThemes PRO crei automaticamente atmosfere autentiche. È quindi possibile aggiungere musica, oltre 1000 effetti e il rimovibile automatico della barra in 1 clic ai video, rendendo qualsiasi materiale fotografico e video pronto per un'esperienza cinematografica ottimale. Anche i video e le foto verticali del telefono possono essere facilmente importati e modificati come video verticali e perfettamente in scena grazie ai nuovissimi modelli video verticali. È inoltre possibile creare e masterizzare DVD video e Blu-Ray Discs™ di alta qualità con numerosi nuovi modelli di menu.
Organizzare, Riprodurre & Streaming
Nero MediaHome 2019: In Nero MediaHome è ora possibile accedere ai file online OneDrive (Files On Demand) e scaricarli direttamente. Questo consente di risparmiare un sacco di spazio di archiviazione sul vostro PC e avete ancora le vostre foto, video e musica direttamente disponibili per il vostro progetto in qualsiasi momento. E, naturalmente, è possibile riprodurre tutto nel solito modo, che si tratti di un DVD video, CD musicale, file musicali, foto, presentazioni, video, film o serie TV. Trasmetti in streaming foto, film e serie TV, inclusi i titoli dei film, in modalità wireless alla TV nel salotto.
Nero DuplicateManager Photo 2019: Avete perso la traccia dei vostri archivi di foto sul PC? Molteplici copie di foto duplicate e tante foto simili attraverso l'editing delle immagini o HDR? La nuovissima modalità "Trova immagini simili" di Nero DuplicateManager Photo fornisce una guida rapida. Trova cartelle di foto duplicate e simili e duplica le foto in modo rapido e sicuro, ripristina l'ordine nell'archivio foto, nello spazio di archiviazione prezioso e pulisce persino il media center Nero MediaHome.
Salvare, Codificare & Comprimere
Nero BackItUp 2019: esegui il backup dei file multimediali di valore con Nero BackItUp integrato. Siediti e assicurati che tutti i tuoi dati siano in buone mani. Utilizza Nero BackItUp per conservare tutte le memorie sul PC o sul laptop. Basta un semplice clic per configurare il backup e proteggere i file con l'intervallo di backup desiderato o in modo continuo. Novità: ora puoi eseguire il backup dei tuoi servizi cloud preferiti (Google Drive, OneDrive) e ripristinare i dati online dal tuo storage cloud.
Ripping & Convertire
Nero Recode 2019: riunire ciò che appartiene insieme: Importazione di tutti i formati fino a HEVC di alta qualità (H.265) e conversione in quasi tutti i formati necessari. Riporta DVD video*, AVCHD* e Blu-ray Discs™* e continua a utilizzare i file per nuovi progetti. Novità: convertire i file video specificamente per l'uso in dischi video (DVD-Video™, AVCHD, Blu-ray Disc™) e lasciare che i file completamente compatibili essere trasferiti direttamente ai progetti video. Grazie a Nero SmartEncoding, è possibile ridurre in modo significativo i tempi di creazione dei dischi video. Con la conversione in 1 clic è anche possibile trasferire i CD audio, inclusi i copertine, direttamente sul dispositivo mobile collegato.
Masterizzare, Copiare & Archiviare
Nero Burning ROM 2019: una classe a sé stante. CD, DVD, Blu-ray Disc™: copia e masterizza dati preziosi con il collaudato esperto di masterizzazione di Nero Platinum 2019. Con SecurDisc 4.0, che include la crittografia a 256 bit, la protezione con password e la tecnologia di ottimizzazione del disco, è possibile anche essere certi che i file dureranno tutta la vita. Puoi anche masterizzare CD audio con funzioni automatiche di ottimizzazione del suono e album art.
Requisiti
:
- Microsoft Windows Vista®, Windows® 7 o Windows® 8.1 & 10
- Processore AMD o Intel® 2 GHz
- 1 GB di RAM
- Per l'editing e l'authoring video SD: processore AMD o Intel® da 2 GHz, 512 MB di RAM (1 GB di RAM per Windows Vista®, Windows® 7 o Windows® 8.1 & 10)
- Per l'editing e l'authoring video HD: processore Intel® Core II Duo 2.2 GHz, AMD Athlon 64 X2 5200+ 2.6 GHz o superiore, 2 GB di RAM
- 5 GB di spazio su disco rigido per l'installazione standard di tutti i componenti (inclusi modelli, contenuti e spazio temporaneo su disco)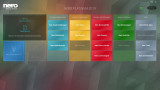 Size: 460 M + 1,7 GB CONTENT PACK
Lingua: Italianoo
Download LinksEasybytez - Rapidgator - Uploaded
Warning! You are not allowed to view this text.
Warning! You are not allowed to view this text.
Password:
programmi
ATTENZIONE
Stai per prelevare Nero Platinum Suite 2019 v20.0.07200 Multi - ITA

Materiale solo a scopo dimostrativo e per testare la sua funzionalità quindi una volta prelevato dovete cancellare i file entro 24 ore dal vostro PC Nessuno dei files indicati su questo sito è ospitato o trasmesso da questo server. I links sono forniti dagli utenti del sito, TRLegend.org non può essere ritenuto in alcun modo responsabile per qualsiasi pubblicazione o altra azione commessa dagli utenti.Se è stato di vostro gradimento supportate il lavoro comprando l'originale.