[Pc] Project Nimbus: Complete Edition (2019) Full ENG
Vota per questo articolo
GIOCHI PC
[Pc] Project Nimbus: Complete Edition (2019) Full ENG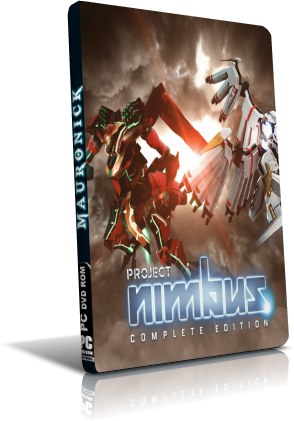 Project.Nimbus.Complete.Edition-PLAZA
Project Nimbus è un gioco d'azione mech ad alta velocità ambientato su una Terra futura devastata, in cui il giocatore manovra un Battle Frame umanoide per uso umano.
Coinvolgi unità nemiche con varie armi e sconfiggi boss enormi e unici piloti asso!
Fai volare i cieli con 360 gradi di libertà e combatti i nemici con una varietà di armi e tecniche, dai missili intelligenti alla carica della lama.
Sperimenta la battaglia come un giovane pilota asso destinato a uno status leggendario.
Caratteristiche:
- Azione di battaglia ad alta velocità, pilotando Battle Frames pesantemente corazzati attraverso i cieli strappati dalla guerra.
- Ventisei missioni in una varietà di luoghi, tra cui città galleggianti, fortezze oceaniche, basi montuose, carceri futuristiche e battaglie nello spazio.
- Oltre una dozzina di Battle Frames giocabili con armi tra cui missili intelligenti, lame di energia, cannoni a particelle, scudi energetici galleggianti, fucili a rotaia e psicoterapeuti autonomi.
- Una trama sconfinata con battaglie tra tre fazioni diverse su un pianeta futuristico devastato dalla guerra: il CFN leader negli Stati Uniti, l'UCN guidato dalla Russia e l'oscuro terrorista Children of Fallen Nations.
- Boss complessi ognuno con uno stile di combattimento unico, tra cui orbitanti mech di battaglia nucleare, bande di piloti mortali e navi volanti armate.
- Missili, cannoni ferroviari e cannoni per il combattimento a lunga gittata ... lame di energia e colpi di lama per il corpo a corpo!
Genere: Azione, Indie
Sviluppatore: GameCrafterTeam, GameTomo
Editore: GameTomo
Data di rilascio: 26-06-2019
Dimensione: ISO 9.93 GB
Show/hide text
MINIMI:
Sistema operativo: Windows Vista/7/8
Processore: Intel Core 2 Duo
Memoria: 2 GB di RAM
Scheda video: ATi HD5750 (Any card that support Shader Model 3.0 should be able to run the game)
DirectX: Versione 9.0c
Memoria: 20 GB di spazio disponibile
Note aggiuntive: This is a requirement to run Project Nimbus : Original Edition.
CONSIGLIATI:
Sistema operativo: Windows 7/8/10 64-bit
Processore: Min : 3GHz or higher dual core processor / Recommended : 3.4GHz or higher quad core processor
Memoria: 4 GB di RAM
Scheda video: Min : GTX670 or Radeon R7 370 with 2GB of video RAM / Recommended: GTX970 or GTX1060 or Radeon RX 580 with 4GB of video RAM
DirectX: Versione 11
Memoria: 20 GB di spazio disponibile
Note aggiuntive: This is a requirement to run Project Nimbus : Complete Edition.
1. Extract release
2 : .Mount ISO
3. Install the game
4. Copy crack from the PLAZA folder
5 : .Play!
**** ESTRAZIONE SINGOLA ****
Attenzione! Non sei abilitato a vedere questo testo.
Registrati o Fai Login
Attenzione! Non sei abilitato a vedere questo testo.
Registrati o Fai Login
Note:
QUESTA RELEASE CONTIENE I FILE DI RECUPERO .REV
SCARICATELI QUINDI SOLO SE NECESSARIO, I FILE .REV SERVONO A RIPRISTINARE QUALCHE PARTE SE SI DOVESSE CORROMPERE DURANTE IL DOWNLOAD OPPURE UTILIZZATELI IN SOSTITUZIONE QUALORA QUALCHE LINK ANDASSE OFFLINE
IL NUMERO DEI FILE REV NON è LEGATO ALLA NUMERAZIONE DEL RAR CHE SI DEVE RIPARARE
Se i miei link vanno offline mandami un PM, riupperò i files il prima possibile
If my links are offline, send me a PM, I refresh files as soon as possible
Utenti che hanno ringraziato: 0
ATTENZIONE
Stai per prelevare [Pc] Project Nimbus: Complete Edition (2019) Full ENG

Materiale solo a scopo dimostrativo e per testare la sua funzionalità quindi una volta prelevato dovete cancellare i file entro 24 ore dal vostro PC Nessuno dei files indicati su questo sito è ospitato o trasmesso da questo server. I links sono forniti dagli utenti del sito, TRLegend.org non può essere ritenuto in alcun modo responsabile per qualsiasi pubblicazione o altra azione commessa dagli utenti.Se è stato di vostro gradimento supportate il lavoro comprando l'originale.