The Lego Movie 2 - Una Nuova Avventura (2019) DVD5 Compresso Ita Subs TRL
Vota per questo articolo
DVD5 NEWS / CARTONI ANIMATI DvD/BluRay
The Lego Movie 2 - Una Nuova Avventura (2019) DVD5 Compresso Ita Subs TRL
The Lego Movie 2 (original title)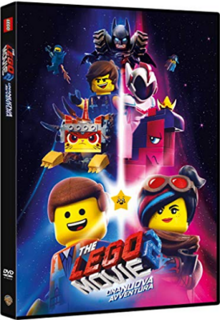 The Lego Movie 2 - Una Nuova Avventura (2019) DVD5 Compresso Ita Subs TRL
CREW TRL
SCHEDA
DATA USCITA: 21 febbraio 2019
GENERE: Animazione, Azione, Avventura
ANNO: 2019
REGIA: Mike Mitchell
ATTORI: Chris Pratt, Claudio Santamaria, Alison Brie, Stephanie Beatriz, Elizabeth Banks, Channing Tatum, Will Arnett, Nick Offerman
PAESE: USA, Australia, Danimarca, Canada
DURATA: 106 Min
FORMATO: 2D e 3D
DISTRIBUZIONE: Warner Bros.
TRAMA
"The Lego Movie 2: Una nuova avventura", l'attesissimo sequel del film campione di incassi e apprezzato dalla critica, riunisce gli eroi di Bricksburg in una nuova avventura per salvare la loro amata città.
SCREEN:
Show/hide text
RAPPORTO:
The Lego Movie 2 - Una Nuova Avventura (2019) DVD5 Compresso Ita Subs TRL
INFO DVD:
Dimensione: 4,36 GB
Sottotitoli: Sì
Lingue: ITA
Metodo Di Rilascio: Cartella VOB
Compressione: 79%
Software utilizzati: Anydvd+Clonedvd
DVD9/DVD5: DVD5 Compresso
Menu: Sì
Extra: No
Download link:
In caso di links defunti, mandate PM e ricontrollate la cartella, ne avrete di funzionanti!

Click'N'Load V2, aprire nel browser (NON INCOLLARLO SU JD), premere il bottone o scaricare il DLC.

(Funzionano solo con JDownloader che deve essere prima avviato).
LINK
Show/hide text
PASS:TRL
SONO PRESENTI FILES .REV   
Referral TRL
http://www.easybytez.com/free329916.html
Utenti che hanno ringraziato: 0
ATTENZIONE
Stai per prelevare The Lego Movie 2 - Una Nuova Avventura (2019) DVD5 Compresso Ita Subs TRL

Materiale solo a scopo dimostrativo e per testare la sua funzionalità quindi una volta prelevato dovete cancellare i file entro 24 ore dal vostro PC Nessuno dei files indicati su questo sito è ospitato o trasmesso da questo server. I links sono forniti dagli utenti del sito, TRLegend.org non può essere ritenuto in alcun modo responsabile per qualsiasi pubblicazione o altra azione commessa dagli utenti.Se è stato di vostro gradimento supportate il lavoro comprando l'originale.