Sword Of God - L'Ultima Crociata (2018) Bluray 1080p AVC Ita Pol DTS-HD 5.1 MA TRL
Vota per questo articolo
BluRay 1:1 News
Sword Of God - L'Ultima Crociata (2018) Bluray 1080p AVC Ita Pol DTS-HD 5.1 MA TRL
Krew Boga (original title)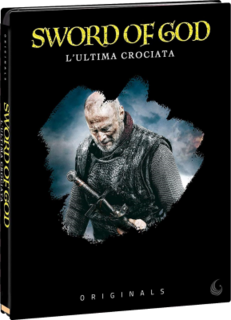 Sword Of God - L'Ultima Crociata (2018) Bluray 1080p AVC Ita Pol DTS-HD 5.1 MA TRL
CREW TRL
SCHEDA
Genere: Storico
Anno: 2018
Regia: Bartosz Konopka
Attori: Krzysztof Pieczynski, Karol Bernacki, Wiktoria Gorodecka,
Jacek Koman, Jan Bijvoet, Jeroen Perceval, Olivier De Sagazan, Dominik Bak...
Paese: Belgio, Polonia
Durata: 100 min
TRAMA
Alto Medioevo. Due cavalieri cristiani, il veterano Willibrord e un misterioso ragazzo senza nome, arrivano in terra pagana, uno per portare il cristianesimo, l'altro per dare un nuovo senso alla sua vita. L'incontro con le popolazioni locali, barbare e pagane, porterà inevitabilmente ad uno scontro violento tra i sostenitori dei vecchi dei e i nuovi arrivati. Stabilitisi nella comunità locale, la loro fede, il loro sistema di credenze e il loro legame vengono messi alla prova: I due uomini dovranno scegliere con chi schierarsi e scegliere così il loro stesso destino.
RAPPORTO:
Sword Of God - L'Ultima Crociata (2018) Bluray 1080p AVC Ita Pol DTS-HD 5.1 MA TRL Nome Versione: TRL
Fonte Video:
Bluray
Fonte Audio:
Bluray
Tracce Audio:
ITA POL DTS-HD
Tracce Sottotitoli:
SI
Show/hide text
Download link:
In caso di links defunti, mandate PM e ricontrollate la cartella, ne avrete di funzionanti!

Click'N'Load V2, aprire nel browser (NON INCOLLARLO SU JD), premere il bottone o scaricare il DLC.

(Funzionano solo con JDownloader che deve essere prima avviato).
LINK
Show/hide text
PASS:TRL
SONO PRESENTI FILES .REV   
Referral TRL
http://www.easybytez.com/free329916.html
Utenti che hanno ringraziato: 1
ATTENZIONE
Stai per prelevare Sword Of God - L'Ultima Crociata (2018) Bluray 1080p AVC Ita Pol DTS-HD 5.1 MA TRL

Materiale solo a scopo dimostrativo e per testare la sua funzionalità quindi una volta prelevato dovete cancellare i file entro 24 ore dal vostro PC Nessuno dei files indicati su questo sito è ospitato o trasmesso da questo server. I links sono forniti dagli utenti del sito, TRLegend.org non può essere ritenuto in alcun modo responsabile per qualsiasi pubblicazione o altra azione commessa dagli utenti.Se è stato di vostro gradimento supportate il lavoro comprando l'originale.