L'Uomo Che Uccise Hitler E Poi Il Bigfoot (2018) Bluray 1080p AVC Ita Eng DTS-HD 5.1 MA TRL
Vota per questo articolo
BluRay 1:1 News
L'Uomo Che Uccise Hitler E Poi Il Bigfoot (2018) Bluray 1080p AVC Ita Eng DTS-HD 5.1 MA TRL
The Man Who Killed Hitler and Then The Bigfoot (original title)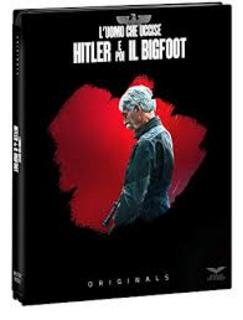 L'Uomo Che Uccise Hitler E Poi Il Bigfoot (2018) Bluray 1080p AVC Ita Eng DTS-HD 5.1 MA TRL
CREW TRL
SCHEDA
Genere:Avventura, Drammatico
Anno:2018
Regia:Robert D. Krzykowski
Attori:Sam Elliott, Aidan Turner, Ron Livingston, Sean Bridgers, Caitlin FitzGerald, Larry Miller, Ellar Coltrane, Rizwan Manji
Paese:USA
TRAMA
The Man Who Killed Hitler and Then The Bigfoot, il film diretto da Robert D. Krzykowski, racconta la storia di un veterano della II Guerra Mondiale di nome Calvin (Sam Elliott), che durante il conflitto ha ucciso Hitler ma che è stato obbligato a tenerlo segreto, e al quale, dopo anni, viene chiesto dall'FBI e dalla Royal Canadian Mountain Police di andare in missione per eliminare anche la mitica creatura che abita le foreste del Grande Nord americano.
RAPPORTO:
L'Uomo Che Uccise Hitler E Poi Il Bigfoot (2018) Bluray 1080p AVC Ita Eng DTS-HD 5.1 MA TRLNome Versione: TRL
Fonte Video:
Bluray
Fonte Audio:
Bluray
Tracce Audio:
ITA MULTI DTS-HD
Tracce Sottotitoli:
SI
Show/hide text
Download link:
In caso di links defunti, mandate PM e ricontrollate la cartella, ne avrete di funzionanti!

Click'N'Load V2, aprire nel browser (NON INCOLLARLO SU JD), premere il bottone o scaricare il DLC.

(Funzionano solo con JDownloader che deve essere prima avviato).
LINK
Show/hide text
PASS:TRL
SONO PRESENTI FILES .REV   
Referral TRL
http://www.easybytez.com/free329916.html
Utenti che hanno ringraziato: 0
ATTENZIONE
Stai per prelevare L'Uomo Che Uccise Hitler E Poi Il Bigfoot (2018) Bluray 1080p AVC Ita Eng DTS-HD 5.1 MA TRL

Materiale solo a scopo dimostrativo e per testare la sua funzionalità quindi una volta prelevato dovete cancellare i file entro 24 ore dal vostro PC Nessuno dei files indicati su questo sito è ospitato o trasmesso da questo server. I links sono forniti dagli utenti del sito, TRLegend.org non può essere ritenuto in alcun modo responsabile per qualsiasi pubblicazione o altra azione commessa dagli utenti.Se è stato di vostro gradimento supportate il lavoro comprando l'originale.