Guardians Of The Tomb (2018) Bluray Ita Eng Sub 720p x264 TRL
Vota per questo articolo
720p OLD
Guardians Of The Tomb (2018) Bluray Ita Eng Sub 720p x264 TRL
Guardians Of The Tomb (original title)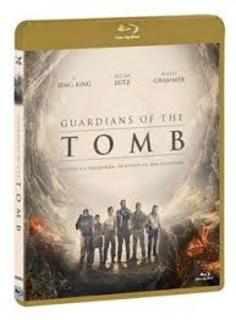 Guardians Of The Tomb (2018) Bluray Ita Eng Sub 720p x264 TRL
CREW TRL
SCHEDA
PRIMA DATA USCITA: 19 gennaio 2018 (Cina)
GENERE: Azione, Avventura, Horror
ANNO: 2018
REGIA: Kimble Rendall
ATTORI: Kellan Lutz, Kelsey Grammer, Bingbing Li, Stef Dawson, Yasmin Kassim, Tim Draxl
PAESE: Cina, Australia, Russia, Thailandia
DURATA: 90 Min
TRAMA
Alcuni scienziati stanno per fare la più grande scoperta del mondo. Ma non hanno ancora fatto i conti con uno sciame di ragni che custodiscono la tomba labirinto di un imperatore cinese.
SCREEN:
RAPPORTO:
Guardians Of The Tomb (2018) Bluray Ita Eng Sub 720p x264 TRLNome Versione: TRL
Fonte Video:
Bluray
Fonte Audio:
Bluray
Tracce Audio:
ITA ENG DTS-HD
Tracce Sottotitoli:
SI
Download link:
In caso di links defunti, mandate PM e ricontrollate la cartella, ne avrete di funzionanti!

Click'N'Load V2, aprire nel browser (NON INCOLLARLO SU JD), premere il bottone o scaricare il DLC.

(Funzionano solo con JDownloader che deve essere prima avviato).
LINK
PASS:TRL
SONO PRESENTI FILES .REV   
Referral TRL
http://www.easybytez.com/free329916.html
Utenti che hanno ringraziato: 0
ATTENZIONE
Stai per prelevare Guardians Of The Tomb (2018) Bluray Ita Eng Sub 720p x264 TRL

Materiale solo a scopo dimostrativo e per testare la sua funzionalità quindi una volta prelevato dovete cancellare i file entro 24 ore dal vostro PC Nessuno dei files indicati su questo sito è ospitato o trasmesso da questo server. I links sono forniti dagli utenti del sito, TRLegend.org non può essere ritenuto in alcun modo responsabile per qualsiasi pubblicazione o altra azione commessa dagli utenti.Se è stato di vostro gradimento supportate il lavoro comprando l'originale.