WWE - Clash of Champions + kickoff (2019) .mkv PPV HDTV AC3 x264 480p ITA
Vota per questo articolo
WWE
WWE - Clash of Champions + kickoff (2019) .mkv PPV HDTV AC3 x264 480p ITA - SpyRo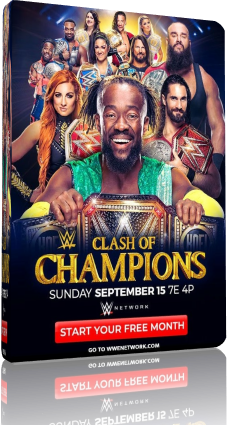 Scheda Inf:
Clash of Champions
Colonna sonora Champion di Bishop Briggs
Prodotto da: WWE
Brand: Raw, SmackDown, 205 Live.
Sponsor: Skittles
dаta: 15 settembre 2019
Sede: Spectrum Center
Città: Charlotte, Carolina del Nord
Tutto pronto per una nuova notte dedicata al grande wrestling WWE. Nel Wells Fargo Center di Philadelphia è arrivato il momento di Extreme Rules 2019, il ppv dalle regole estreme. Un appuntamento in cui le superstar di Raw e SmackDown si metteranno in gioco, con incontri interni ai vari roster, ma anche (e soprattutto) interbrand, visto che mai come in questo pay-per-view si vedranno gli effetti della Wild Card Rule.
Altri due appuntamenti assolutamente da non perdere, che rendono ancora più ricca la card di questo show, già di per sé molto interessante. Dal tag team match che metterà di fronte il tandem composto da Roman Reigns e The Undertaker a quello formato da Shane McMahon e Drew McIntyre, fino al Mixed Tag Team Match con in palio sia il titolo Universale di Seth Rollins sia quello di campionessa di Raw di Becky Lynch, di fronte all'assalto di Baron Corbin e Lacey Evans.
Commento: Franchini - Posa.
Lingua: ITA
Formato: mkv
WWE Clash of Champions card:
Show/hide text


Show/hide text

In caso di links defunti, mandate PM e ricontrollate la cartella, ne avrete di funzionanti!
Click'N'Load V2, aprire nel browser (NON INCOLLARLO SU JD), premere il bottone o scaricare il DLC.

(Funzionano solo con JDownloader che deve essere prima avviato).

Attenzione! Non sei abilitato a vedere questo testo.
Registrati o Fai Login
Utenti che hanno ringraziato: 0
ATTENZIONE
Stai per prelevare WWE - Clash of Champions + kickoff (2019) .mkv PPV HDTV AC3 x264 480p ITA

Materiale solo a scopo dimostrativo e per testare la sua funzionalità quindi una volta prelevato dovete cancellare i file entro 24 ore dal vostro PC Nessuno dei files indicati su questo sito è ospitato o trasmesso da questo server. I links sono forniti dagli utenti del sito, TRLegend.org non può essere ritenuto in alcun modo responsabile per qualsiasi pubblicazione o altra azione commessa dagli utenti.Se è stato di vostro gradimento supportate il lavoro comprando l'originale.