Verso l'ignoto (2019).mkv HDTV AC3 H264 720p 1080p - ITA
Vota per questo articolo
DOCUMENTARI
Verso l'ignoto (2019).mkv HDTV AC3 H264 720p 1080p - ITA SpyRo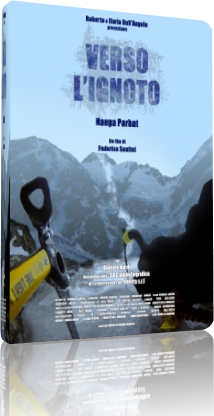 Scheda iNF:
Genere: Documentario
Data di uscita: 19 marzo 2016
Regista: Federico Santini
Produttori: Roberto Dall'Angelo, Ilaria Dall'Angelo

Discovery Italia (canale 401 del pacchetto Sky) ricorderà oggi, 27 marzo, l'alpinista Daniele Nardi, a un mese dalla sua scomparsa sul Nanga Parbat, con una proiezione in prima serata (ore 21.00) del documentario "Verso L'ignoto, la scalata al Nanga Parbat", un film in cui Daniele ha raccontato, con il prezioso aiuto del regista Federico Santini, le sue prime spedizioni invernali sulla montagna nuda, per far scoprire al pubblico "il mio alpinismo, le motivazioni che mi spingono a scalare e le vicissitudini umane affrontate dal 2012 anno del primo tentativo".
Un racconto che vede l'alpinista di Sezze approcciarsi per la prima volta al Nanga Parbat per seguire un progetto, che a molti apparirà – forse ancora oggi – un sogno impossibile da realizzare: raggiungerne la vetta in inverno, in stile alpino, attraverso una nuova via mai conclusa da nessuno, quella dello Sperone Mummery.
Il documentario si ferma alla spedizione dell'inverno 2014/2015, quella che precede l'anno della prima vetta invernale. Il 26 febbraio 2016 Simone Moro, Ali Sadpara e Alex Txikon raggiungono infatti quota 8.126 m sulla nona montagna del Pianeta (mentre Tamara Lunger si fermerà poco al di sotto).
Il documentario ha vinto in questi anni il primo premio al Dutch Mountain Film Festival (DMFF Awards) e al Bergfilm di Tegernse in Germania, come descritto nelle motivazioni alla base dell'attribuzione di quest'ultimo riconoscimento, grazie alle "meravigliose immagini e l'onestà con cui è stato trattato l'alpinismo: non eccessivamente enfatizzato, non lento, ma pieno di emozioni".
In occasione di ogni premio vinto, Daniele ha regalato agli appassionati alcuni giorni di visione gratuita ed integrale del documentario, nato in fondo per far comprendere anche a chi non sia parte del mondo alpinistico ma lo guardi dall'esterno in un misto di dubbio e ammirazione "cosa spinge un individuo a patire freddo, disagi, intemperie, fatiche inumane".
Questa volta sarà Discovery Italia a fare un regalo in sua memoria ai tanti fan, che probabilmente riguarderanno ancora una volta con piacere il documentario, e ai tanti che si sono appassionati e incuriositi in merito alla sua storia nel corso delle ultime tragiche settimane.
R.I.P.
Daniele Nardi

InfSuFiles:
Show/hide text

In caso di links defunti, mandate PM e ricontrollate la cartella, ne avrete di funzionanti!
Click'N'Load V2, aprire nel browser (NON INCOLLARLO SU JD), premere il bottone o scaricare il DLC.

(Funzionano solo con JDownloader che deve essere prima avviato).

720p:
Warning! You are not allowed to view this text.
1080p:
Warning! You are not allowed to view this text.

720p:
Warning! You are not allowed to view this text.
1080p:
Warning! You are not allowed to view this text.
Utenti che hanno ringraziato: 0
ATTENZIONE
Stai per prelevare Verso l'ignoto (2019).mkv HDTV AC3 H264 720p 1080p - ITA

Materiale solo a scopo dimostrativo e per testare la sua funzionalità quindi una volta prelevato dovete cancellare i file entro 24 ore dal vostro PC Nessuno dei files indicati su questo sito è ospitato o trasmesso da questo server. I links sono forniti dagli utenti del sito, TRLegend.org non può essere ritenuto in alcun modo responsabile per qualsiasi pubblicazione o altra azione commessa dagli utenti.Se è stato di vostro gradimento supportate il lavoro comprando l'originale.