Welcome To The NHK (2006)4xDVD9 Copia 1:1 ITA-JAP Sub ITA
Vota per questo articolo
ANIME DVD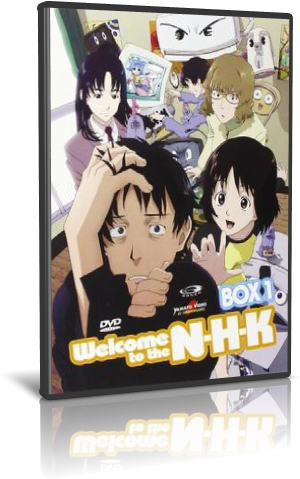 Trama
Tatsuhiro Sato è un giovane che da quattro anni vive praticamente recluso nel suo piccolo appartamento di Tokyo e incarna perfettamente lo stereotipo dell'hikikomori giapponese: ha interrotto qualsiasi legame con il mondo esterno e si mantiene a malapena con i soldi che gli inviano i genitori (per questo è definito anche NEET). Un giorno mentre è occupato a non fare nulla nel suo appartamento bussa alla porta un'anziana accompagnata da una giovane ragazza. Questa successivamente si mette in contatto con Sato affermando di conoscere il modo per curarlo dalla sua malattia. Misaki, questo il suo nome, gli porge quindi un contratto e lo invita a seguire alcune lezioni private che terrà per lui la sera, al parco.
Sebbene il giovane inizialmente provi diffidenza e tenti in tutti i modi di cancellare l'offerta dalla sua mente, alla fine accetta e ogni sera si reca al parco vicino per ascoltare le lezioni della ragazza. Misaki appare timida e introversa almeno quanto Sato, ma si rifiuta di fornire al ragazzo informazioni su di sé, soprattutto perché si interessi tanto a lui e come fa a conoscere tutti i particolari della sua vita. I giorni si susseguono e Sato sembra effettivamente sollevarsi dalla sua condizione di hikikomori, almeno finché vecchie conoscenze dal passato non tornano a farsi vive scaricando i loro problemi sul ragazzo e mettendolo nuovamente con le spalle al muro.
Scheda anime
Regista: Yusuke Yamamoto
Formato: DVD, PAL, Schermo panoramico
Audio: Giapponese (Dolby Digital 2.0), Italiano (Dolby Digital 2.0)
Lingua: Italiano, Giapponese
Sottotitoli: Italiano
Regione: Regione 2
Numero di dischi: 4
Formato immagine: 16:9
Studio: Yamato Video
Durata: 225 minuti
Data versione DVD: 23 nov. 2011
Screenshots ReleaseReport Media Info:
Password Archivi :
vercingetorige
Se volete supportare il mio lavoro potete sottoscrivere o rinnovare un abbonamento con il link sottostante.Dareste un grande aiuto a continuare le pubblicazioni.
Grazie!!!!!!!
Ecco cosa dovete fare.
Dovete aderire all' abbonamento Premium utilizzando i links referral per collegarvi al sito e scaricare poi successivamente.
Questi sono i referral:
EASYBYTEZ REFFERAL
http://www.easybytez.com/free387848.html
UPTOBOX REFFERAL
https://uptobox.com/affiliate?aff_id=1434985
NITROFLARE REFERRAL
https://www.nitroflare.com/register?referrer=1330

Utenti che hanno ringraziato: 1
ATTENZIONE
Stai per prelevare Welcome To The NHK (2006)4xDVD9 Copia 1:1 ITA-JAP Sub ITA

Materiale solo a scopo dimostrativo e per testare la sua funzionalità quindi una volta prelevato dovete cancellare i file entro 24 ore dal vostro PC Nessuno dei files indicati su questo sito è ospitato o trasmesso da questo server. I links sono forniti dagli utenti del sito, TRLegend.org non può essere ritenuto in alcun modo responsabile per qualsiasi pubblicazione o altra azione commessa dagli utenti.Se è stato di vostro gradimento supportate il lavoro comprando l'originale.